Search Engine Optimization
Hire our search engine optimization experts to help your business website rank higher on search engines and bring you more leads.
Search Engine Optimization is one of the most vital parts of marketing. Without it, current customers may not come back to the website. New visitors may not stay on the website that long. Also the chances of new visitors finding the website in the first place may not even happen without proper search engine optimization of your website. If you want to increase your search engine ranking or get more visitors, check out the SEO services we offer below.
Search Engine Optimization Services
Learn more about the various Search Engine Optimization Services we offer by clicking on them below.
Our Website Audit service is free. We will analyze your website and your business' online presence and show you where you can improve.
Finding your website organically through search engines is very important. Let us take a look at your site and show you where you can improve.
Paid search can bring about quick wins in regards to search engine rankings and leads. Our PPC Agency are experts in paid search strategies.
Helping potential customers or clients find your company locally is one of the most important parts of your online presence.
Search Engine Optimization Benefits
Cost Effective
Search Engine Optimization is a very cost effective form of marketing. The reason for this is because the people who typically find you using a search engine are already looking for the products and services you offer. This is in contrast to using other forms of marketing such as online ads, magazines, and billboards where you're marketing yourself to basically everyone who happens by your advertisements, hoping that you'll find someone interested in your business.
Builds Trust
When people are using Google, Bing!, or other search engines, they typically believe that the websites at the top of the search results are the best companies for the search terms that they use. Without understanding how SEO actually works, most people believe that the search engines only put websites at the top that they trust the most. Seeing your company listed near the top will increase the chances that potential clients or customers will trust your company over ones that are lower in the search results.
User Friendly
Not only does properly optimizing your website for search engines make you more appealing to them, it also increases the user friendliness of your website. This makes it easier for users to navigate your website and get the information they want. This also increases the chances of them returning to your website and even possibly purchasing your products or services.
Increased Traffic
Making sure your website is optimized for search engines will cause it to rise up the rankings of the search results which brings more visitors to your website. It brings more visitors to your social media pages as well.
Brand Awareness
Seeing your website at the top of the search results for certain keywords makes people more aware of your brand, causing people to remember your company when they are in need of the products you produce or the services you provide.
Competitive Advantage
Your competitors' website may not be search engine optimized. Even if they are, there's no guarantee that their website is properly optimized. Properly optimizing your own website for search engines may give you a competitive advantage, bringing you traffic and possibly business that would have gone to your competitors instead.
What is Search Engine Optimization?
So what is search engine optimization (SEO) and how can Epitome Digital Marketing utilize SEO strategies to benefit your business? As highlighted previously, search engine optimization is one of the most vital forms of marketing. Whether or not your business's website is optimized for search engines is a deciding factor for your website's performance in a variety of areas.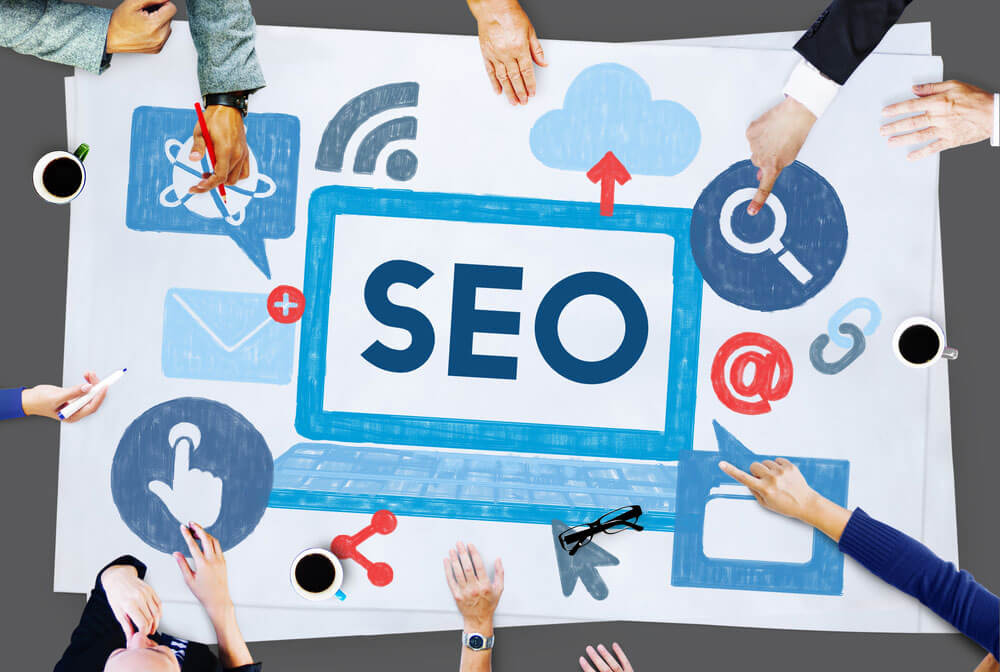 From visibility in search engines to the ability to generate relevant traffic to your website, search engine optimization efforts should be a primary concern. Let's take a closer look at the various components of search engine optimization so that you can better understand the importance of the services provided by Epitome Digital Marketing.
Search Engine Crawl Accessibility
One of the primary focuses of good search engine optimization strategies is to make your website more accessible to search engine crawls. Search engines represent your business through their search engine results pages, where web pages are indexed and presented according to search queries.
If your website isn't optimized to be accessible to Google search engine crawls, your website won't appear in the search results. Further, if your website isn't found in the search results, you are missing out on one of the best ways to generate traffic to your website and win over customers.
Keyword Optimization
The use of specific keywords in your website's content is essential to ranking high in Google. In order to know which keywords to target, a qualified SEO professional needs to conduct the necessary keyword research. This involves identifying what keywords people are searching for, how many people are searching for it, and in what format they want the information presented to them.
By answering these three questions, Epitome Digital Marketing identifies what keywords to target in your content and conducts the necessary processes to optimize that content for search engines. This not only helps to create content that answers the questions your customers have but also gives you a better chance of ranking high in Google, putting you before the eyes of your customers.
User Experience
Another important component of search engine optimization is taking the necessary steps to ensure a better user experience on your website. At Epitome Digital Marketing, our team has extensive technical knowledge of the steps it takes to give your website visitors the best possible experience. This includes optimizing your website for quick loading speed, easy navigation, and granting them greater accessibility to valuable content found on your website. Happy website visitors are more likely to become happy customers and Epitome Digital Marketing uses search engine optimization to give your visitors a better experience.
Backlinks
A crucial part of improving your website's visibility online is the backlinking process. Backlinks are online links that direct users to your website. The more relevant backlinks are found across the Internet to direct potential customers back to your website, the higher your rate of traffic will be. As you know, visibility is crucial to attracting customers to your business and this is what our backlinking efforts provide. Backlinks also signal to search engines that your website is a relevant source of information, increasing your chances to rank at the top of Google's first page.
How Epitome Digital Marketing Can Help
The world of search engine optimization is complex and changes are made constantly to the way online content is analyzed by Google to be indexed in search engines. With so many changes being made on a regular basis, business owners like you need experts with SEO knowledge and experience to stay on top of the ever-changing world of search engine optimization.  You can read more about the search engine optimization services that we provide by clicking the links below but here's the rundown of what we have to offer you.
FREE Website Audit: When you make the smart decision to work with Epitome Digital Marketing to optimize your website for search engines, you'll receive a free website audit packed with valuable information. Our free website audit will analyze your entire website to see how well it is optimized for search engines. Our team will then use this information to know exactly where to focus our efforts, giving you dramatically positive results even faster.
Organic SEO: At Epitome Digital Marketing, we know that ranking high organically in search engines can be difficult. The time-consuming processes required to rank organically take away your time from your business. That's why you need our team to do the hard work for you. With our organic SEO services, we will use on-page strategies, formatting, and structuring to ensure you rank well organically, minimizing the need for paid search results measures that can drain your funds.
Local SEO: As a local business owner, it is vital that you are able to reach your local customer base when advertising your products and services. Epitome Digital Marketing's Local SEO service is built to help you rank high at the local level. If you want your business to be easily visible to customers in your area in need of your products and/or services, there is no better choice than Epitome Digital Marketing!
Hire Our Search Engine Optimization Agency
There are over 200 ranking factors Google uses to rank your website. Make sure to hire a SEO Agency like Epitome Digital Marketing who are experts at SEO! Get in touch with us today!
Learn how your business can master the digital marketing world with these awesome insights into the various areas of digital marketing such as Website Development, SEO, Local SEO, Social Media Marketing, and more!
Why Choose Us For Your Digital Marketing Needs
Our team is honest and trustworthy. We will always be up front with you on whether or not something can be done. If an idea sounds like it will not work or could be damaging to your business, we will let you know along with alternatives.
At Epitome Digital Marketing, we pride ourselves on our communication. We will keep you up-to-date on projects and how things are going. We always make sure to thoroughly explain things to ensure that you have no questions about the project.
We Succeed When You Succeed
We don't succeed until you succeed. Your company is not just another company putting money in our pockets. We consider ourselves a success when you achieve your business goals. Our goal is to grow and become more successful with you.
Superb Attention To Detail
We pride ourselves on our attention to detail. Many marketing agencies will just do the given task and don't pay attention to any issues that may arise. We work proactively so as to avoid any issues that may be damaging to your business.
We are never satisfied with our level of knowledge in the various areas of marketing. We are always eager to learn new strategies and come up with new services to offer you to continue to help your business reach its goals and become more successful.
Our team is made up of people with a team player mentality. We work great not only amongst ourselves, but also with other teams as well. If your business requires that we work with multiple people at your company, we are happy to do this and work with your team.
Hire Our Search Engine Optimization Agency
There are over 200 ranking factors Google uses to rank your website. Make sure to hire a SEO Agency like Epitome Digital Marketing who are experts at SEO! Get in touch with us today!
We can tell you all day how awesome we are, but the best way to judge a digital marketing agency is by what their clients have to say about their work. So check out some of the great testimonials our clients have given about what it's like to work with Epitome Digital Marketing!
Frequently Asked Questions
If you have some questions, please check out these common questions below. You can also check our main Frequently Asked Questions page which has questions for all of our services here at Epitome Digital Marketing. Finally, if you can't find your questions there either, you can fill out the form on our Contact page to ask us anything else.
SEO stands for Search Engine Optimization. It is the process of optimizing for search engines.
SEO can help your business by optimizing your website, social media channels, and other online entities for search engines. It increases your search rankings and makes it easier for people to find your business online. This in turn will increase your chances of gaining more customers or clients.
Optimizing for search engines requires you to do a number of things. We have a FREE SEO Audit page that lists all the things we look for to see if your website is optimized for search engines.
Yes, you should still invest in SEO. The ranking algorithms for search engines are constantly changing so you need to be ready for when they change to take advantage of them. If you've never invested in SEO before and already rank high, chances are that it's just because your website has been online for a long time. As your competitors start taking steps to better optimize their websites for search engines, they will eventually overtake your website in the rankings.
On-Page SEO refers to the SEO on your website only.
Local SEO refers to ranking locally on search engines and making your business appear higher in search engine results at a local level. Organic SEO is just about your website ranking on search engines organically.
No. Any company who promises you exactly how high you will rank or even goes so far as to promise you the top spot on search engine results is being dishonest. The reason why this is an unrealistic promise is that there are a number of factors that go into Google's ranking algorithm.
One of the biggest parts is your competitors. You're not just trying to get Google to rank you on their search engine results, you're competing against other companies in your industry and depending on what they've done with their SEO strategy may make it harder to overcome them in search engine results.
A more realistic promise for SEO is that with a great SEO strategy, you will see your website climb the rankings.
Typically, if you're not happy with where your website ranks in search engines, it's due to either a nonexistent SEO strategy or one that needs work. Epitome Digital Marketing has a FREE SEO Audit that you can have done for your website. Our SEO Audit will tell you where your weaknesses are in your SEO strategy or if you don't have one to begin with, we can help you get started.
A SEO Audit is an audit of your website to see how optimized your website is for search engines. We look for a number of factors which may be preventing your website from ranking higher in search engine results. For a list of what we look for, check out our FREE SEO Audit page.
Your SEO Audit found a number of issues wrong on my website. Will you fix them for me?
Yes, we will. Included in your SEO Audit was an estimated amount of time it would take for us to fix them. We work on SEO Audit items for our hourly rate of $40 per hour. You have the option of having us work on all of them at once or we can break them up into monthly items to spread out the cost.
Yes, social media affects your SEO rankings. If you search for most websites in search engines that already have social media pages on the results list for that company, you'll see their social media pages pop up in the results, too. This is another way that visitors can find your company so properly optimizing your social media pages is ideal.
Yes, page load speed is very important. Who wants to try and use a slow website? Most visitors will only have enough patience for around 10 seconds or less. If your website hasn't loaded during that time, odds are you've just lost a potential client or customer.
Yes, your search engine ranking will be harmed by a website that isn't mobile-friendly. Since 2015, Google has been showing favor in search engine results to sites that are mobile friendly versus those who are not. Odds are when people do find your website, if they're on a mobile device and your website isn't mobile friendly, you'll lose out on potential clients or customers. As society starts using mobile devices more and more, a business who does not have a mobile friendly website will fall further and further behind.
Keywords are words or phrases that people type into search engines that are used to find websites in search engine results. Having high quality and relevant keywords that pertain to the topic of your page or business on the pages of your website will help you show up in results.
To get your business to appear on Google Maps, you need to set up a Google My Business account and fill out all necessary information. At some point during the process you will be given the option to verify that you own the business. This is typically done with a postcard sent to your company's physical location with a verification code. Once entered, your business name will appear at your location on Google Maps. People will also be able to search for your business name on Google Maps as well.
Reviews are very important for SEO as a good review causes the people reading them to trust your business more for the services you provide or the products you're selling.
To properly handle negative reviews, you should try and get in touch with the person behind the negative review and find out what you can do to make them happy. While you cannot make everyone happy, sometimes even the smallest effort can turn a negative review into a positive one. Plus if they do change their review to a positive one, they will oftentimes note how you resolved their issues promptly.
Google Analytics is a free tool dedicated to showing you how many visitors come to your website, how they found you, where they went once they did find you, plus breaking down the demographics of your visitors.
If you have any other questions that were not found in the above answers, then please fill out our form on our Contact page.
Check out our work for yourself to see the high quality work that comes with hiring Epitome Digital Marketing for your digital marketing needs.
Get Instant Access To Digital Marketing Mastery
Learn the secrets of quickly growing your business and bringing in more leads with our exclusive email list. Subscribers receive monthly emails about: