10 Insights Google Analytics Can Give You About Your Business Website
In today's Digital Marketing Mastery, we discuss 10 insights into how Google Analytics can help you attract more visitors and track website performance.
What good is your website if it doesn't achieve its goals?
Whether you want it to sell more products, attract more visitors, track the performance of your ads, or increase the time visitors spend on your website, it's essential to understand the website's performance to ensure that it does what you require from it.
Google Analytics is one of the most popular and powerful tools available to do just that.
Most companies using Google Analytics have a revenue of $1-$10 Million
Over 28 million websites use Google Analytics, and this number continues to increase
Almost 86% of websites that use website analytics reports and tools rely on Google Analytics
It allows you to monitor and analyze data from your website. And by understanding how users interact with your site, you can get valuable insights into your target audience and make informed decisions on improving your online performance.
This article will walk you through ten valuable insights Google Analytics can give you about your website to improve marketing and overall SEO efforts.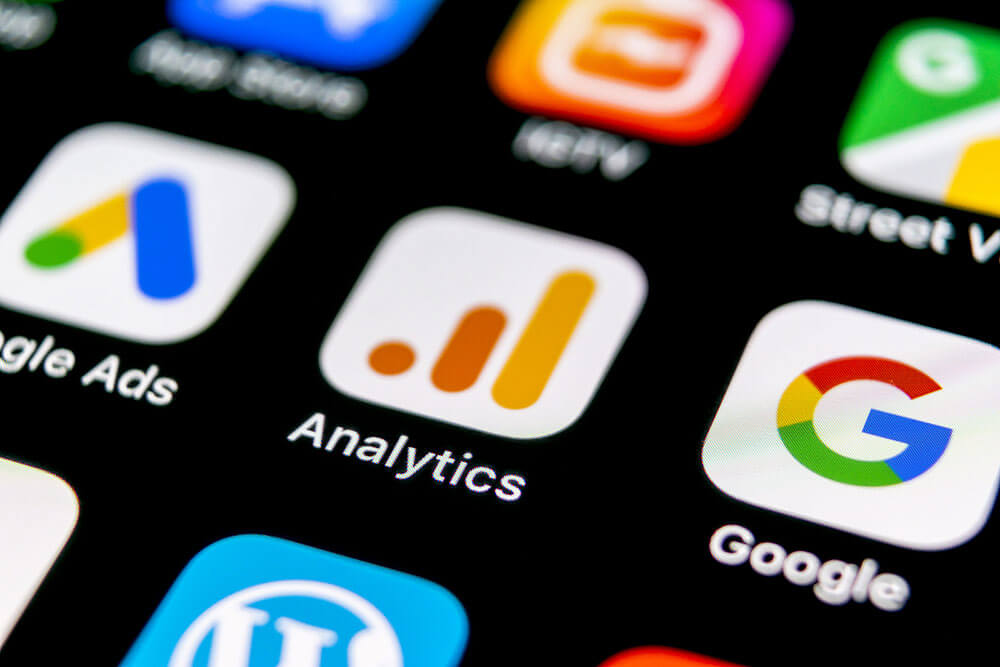 10 Killer Google Analytics Insights You Must Track
Listed below are the ten most crucial Google Analytics insights report you should track about your business website:
1. Goal Conversions
The "Goal conversions" metric is a powerful tool that lets you keep tabs on how many conversions your website generates. Use it to track the number of conversions and review the buttons, transactions, or forms used to complete them.
However, before you can access this data, you need to set up your goals in Google Analytics. Once you've set your goals, any specific event a user completes on your website counts as a conversion toward your goal.
Additionally, it can help you determine if your site can effectively track conversions. Remember that this metric can only track conversions completed within the last 30 minutes. This Google website metric provides valuable insights into the performance of your website and helps you optimize it for maximum conversions.
2. Audience Overview
This report offers a comprehensive look into your site's visitors, including:
Audience Age
Understand or fine-tune your target audience, and monitor the average age group of your site's visitors.
Audience Gender
Combining the 'audience gender' metric with other Google website metrics can help verify if your campaign reaches the intended target market.
Audience Geographic Location
The 'audience geographic location' metric shows where your site's visitors are located and what language they use. This is particularly helpful for international campaigns, allowing marketers to understand their reach.
3. New Vs. Returning Visitors
This metric categorizes your website's visitors as new or returning. New visitors are those who have not previously landed on your site, while returning visitors have visited your site at least once within the last two years.
An increase in new visitors may signal that your marketing campaign is successful, your content is popular, or your brand awareness is growing.
By contrast, returning users can offer valuable insights into your website's most visited pages, relevant content you can repurpose, or even a standout product to promote. Moreover, you can entice returning visitors with 'loyalty rewards' or a more appealing call to action.
4. Bounce Rate
The bounce rate represents the percentage of sessions or visits where users left the site after viewing only one page without interaction.
One study revealed that the average bounce rate for e-Commerce websites is 47%. If you have a higher bounce rate, it means users leave the site quickly. To keep visitors engaged for longer on a site, you must develop a strategy such as designing a better user experience and including a clear call to action to lower bounce rates.
5. Behavior And User Flow
User and behavior flow can help you understand how visitors interact with your website.
User flow shows where your visitors come from and where they go after leaving your site. On the other hand, behavior flow shows what visitors do once they land on your website. It can tell you the order of pages they visit, how much time they spend on each page, and whether they follow a logical path toward making a purchase.
Both user and behavior flow metrics can help you optimize your website and improve the user experience.
6. Lifetime Value
This insight tracks a user's behavior during the first 90 days of visiting your website. Monitoring this metric is crucial, especially if you want people to sign up for a service.
You can choose what to measure, like how many pages they view or if they make a purchase. By doing this, you can predict how users will interact with your site and become valuable customers in the future.
7. Mobile Vs. Desktop
Want to know whether users visit your website from their mobile devices or desktop computers? This metric helps you segment your visitors by device and compare how many people access your site through their phones or desktop computers.
This is important because mobile devices account for 60.28% of website traffic, and 92.1% of internet users access the internet through a mobile phone.
This insight is especially useful if you have a marketing campaign targeting mobile or desktop users. By tracking this metric, you can see how successful your campaign is at reaching your target audience.
8. Multi-Channel Conversions
With this metric, you can figure out which channels bring the most sales to your website. You can also add up different channels to see your overall sales.
Use this information to decide where to put more of the marketing budget to get a better return on your investment.
9. Active Pages
You can use this insight to watch pages getting the most traffic on your website in real time.
The "active pages" metric can tell you whether your content attracts any visitors to recently published and promoted blog posts. It's a great way to stay on top of your website's performance.
10. Exit pages
When visitors leave your website, the "Exit pages" metric can show you which page they left from. Using this helpful webpage analytics tool, you can identify any problems with that page, such as a weak or unclear call-to-action or broken links.
This way, you can improve your website's user experience and prevent visitors from leaving prematurely.
Let Us Setup Your Google Analytics For Success
Knowing your customers better can help you develop killer content they will love and generate ideas to scale your business.
You can learn even more about your customers' preferences, behavior, and other important details by using Google Analytics and making necessary tweaks.
Let us help you engage visitors with your website so you can provide a better user experience and drive business growth. Choose Epitome Digital Marketing as your go-to full-service digital marketing agency to garner valuable user data and improve your SEO and marketing efforts.
Get Instant Access To Digital Marketing Mastery
Learn the secrets of quickly growing your business and bringing in more leads with our exclusive email list. Subscribers receive monthly emails about: