WordPress Websites
Hire our WordPress websites experts to help your business website rank higher on search engines and bring you more leads.
Epitome Digital Marketing is a digital marketing agency that specializes in WordPress websites. WordPress is an open source platform that originally started off as a blogging platform. WordPress has since expanded into being used for everyday websites from blogs to small business websites, corporate websites, and e-commerce websites with the WooCommerce plugin.
Epitome Digital Marketing has over ten years of experience in developing WordPress websites. Our WordPress websites are built to your satisfaction. They are optimized to be search engine friendly, fast, and reliable. Your WordPress website can be viewed on desktop, tablet, and mobile devices. Learn more about the benefits WordPress Development with Epitome Digital Marketing will give your next website outlined below.
WordPress Websites Benefits
Open Source
The WordPress platform is open source software and is backed by a large developer community. The capabilities and features of WordPress is nearly limitless as a result. With the vast number of themes and plugins, this makes WordPress an ideal choice for your next website.
Brand Name Appeal
Don't just take our word for how great WordPress is. If your website is built on WordPress, you'll be putting your company up beside big names such as BBC America, Variety, Sony Music, MTV News, and more! Give your business the same brand name appeal with a WordPress website.
Easy To Customize
Our WordPress websites are built with easy customization in mind. With an open source development community behind WordPress, you want your website built in such a way that integrating the countless plugins out there into your website are a breeze. Customization optimization is our goal!
Mobile Friendly
Having a mobile friendly website is vital in modern times and especially since Google's ranking algorithms show favor to websites who are mobile friendly. Epitome Digital Marketing's WordPress websites are designed to be mobile friendly so you don't miss out on the large market that mobile browsing has become.
Search Engine Optimization
A website that ranks high on search engines should be a priority for any business and Epitome Digital Marketing knows this more than anyone. Our WordPress websites are built with SEO in mind and your website will be search engine friendly. Watch as your business website rises up the search results.
Easy To Update
Our WordPress websites are built so that they are easy to update. No matter if it's you updating your own website or our team doing all the content updates for you, we want to make it as easy and quick as possible. Should you choose to update your own website, we have plenty of high quality training videos to show you how.
Why WordPress Websites?
We specialize in WordPress websites here at Epitome Digital Marketing because we believe in the power of the WordPress platform. Since its formation in 2003, WordPress has gone from a simple blogging site to an open source web development platform preferred by millions of businesses around the world. Whether you are a business owner that has yet to establish your own WordPress website or just need help setting it up, Epitome Digital Marketing has years of experience building, designing, and outfitting WordPress websites with all of the bells and whistles.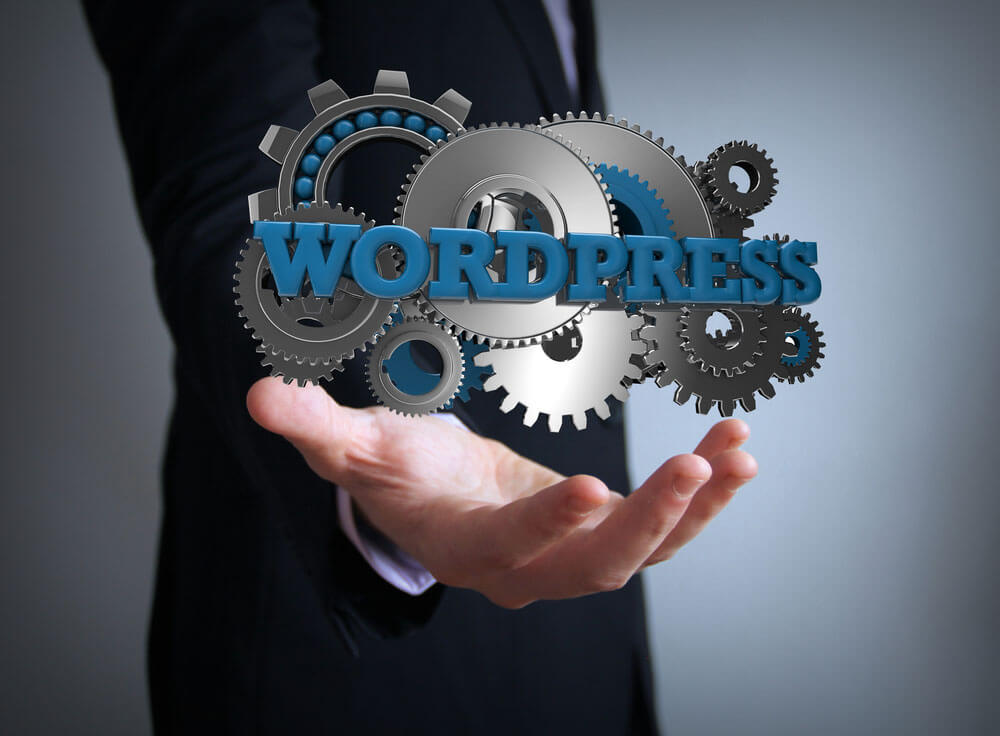 In order to truly understand the value of our WordPress website services, it is vital that you have an understanding of the advantages of working with a WordPress website. If you are yet to be convinced of the benefits of working with the WordPress platform, allow Epitome Digital Marketing to convince you.
The Advantages of Using the WordPress Platform
There's a reason that so many prefer the WordPress platform for building and designing their website, our past customers included. After all, WordPress is used by almost 75 million websites worldwide. Here are just a few of the many advantages of getting a WordPress website for your business, built and designed by Epitome Digital Marketing.
WordPress is Cost-Effective
One of the biggest reasons that Epitome Digital Marketing offers WordPress websites to all of our clients is cost-efficiency. As a business owner, you understand the importance of working to remain under budget and WordPress is the perfect platform for doing so! The web design and development features included on the WordPress platform are among the most cost-effective available to small and medium-sized businesses alike. At the same time, both maintenance and upkeep is relatively inexpensive as well.
When you decide to hire the web design and development services of Epitome Digital Marketing, you are opting in for the most budget-friendly open source web development platform available today. Our dedicated team of professionals further minimize cost as our services are priced fairly and competitively.
Reliable Search Engine Optimization Features
Another advantage of hiring Epitome Digital Marketing to build your WordPress website is the benefit of reliable search engine optimization features included with the WordPress platform. WordPress is designed with search engine optimization efforts in mind (an additional service provided by Epitome Digital Marketing).
Websites supported by the power of WordPress feature simple and constant codes that make them ideal for indexing by Google. This is valuable as so much of what makes up effective search engine optimization strategies is greater accessibility to Google crawls. There are also a variety of useful SEO-centric plugins that our team can outfit your WordPress website with to further search engine optimization efforts. All of this is made possible by the convenience of the WordPress platform.
Responsive Web Design
Web design can be a daunting prospect for many business owners and that's why our WordPress website services are so valuable. Our team of web designers are well-experienced with crafting attractive, easy to navigate websites for our customers. Our efforts to give you a website featuring a fantastic web design you can be proud of are made that much simpler by the WordPress platform.
WordPress websites possess incredibly responsive web design. This is of the utmost importance considering that mobile traffic now far surpasses normal desktop traffic. When you use a WordPress website design built by Epitome Digital Marketing, you are ensured a responsive web design without the need to develop separate websites to fit separate types of devices.
Content Marketing
Content marketing will be a primary area of focus for your website as a business owner. This means that working with an open source web development platform that supplies features based around content marketing efforts is a must. Fortunately, WordPress websites are well-known for being the best for completing a variety of content marketing processes.
How Epitome Digital Marketing Can Help
At Epitome Digital Marketing, we use the WordPress platform to update your website's content quickly and easily. This is vital as other open source web development platforms require you to jump through a series of complicated hoops before enabling you to make even the smallest changes to your website's design and/or content. Another added advantage of WordPress's content marketing focus is the fact that the practice of frequently updating website content helps your business to establish niche credibility more quickly and efficiently.
Hire Our WordPress Websites Agency
There are over 200 ranking factors Google uses to rank your website. Make sure to hire a SEO Agency like Epitome Digital Marketing who are experts at SEO! Get in touch with us today!
Website Development Process
Discovery
During this initial phase, we make contact with the client and go over everything in regards to what they're looking for in their website project.
Initial Website Build
During this phase, we build the website's theme, the homepage, and two subpages as a sample.
Initial Client Review
In this phase, the client does an initial review of the website to see if we are on the right track.
Revisions
If everything isn't to the client's liking in the previous step, we make revisions until they are happy.
Development
In this phase, we build the full website and all features requested in the Discovery phase.
Testing
In the testing phase, we test the website in multiple website browsers and on multiple devices to ensure a high quality website.
Final Client Approval
This phase is where the client looks over their website one last time, giving us any last minute revisions.
Launch
The website has been fully tested and the client has given final approval so now the website launches along with any social media pages.
Learn how your business can master the digital marketing world with these awesome insights into the various areas of digital marketing such as Website Development, SEO, Local SEO, Social Media Marketing, and more!
Why Choose Us For Your Digital Marketing Needs
Our team is honest and trustworthy. We will always be up front with you on whether or not something can be done. If an idea sounds like it will not work or could be damaging to your business, we will let you know along with alternatives.
At Epitome Digital Marketing, we pride ourselves on our communication. We will keep you up-to-date on projects and how things are going. We always make sure to thoroughly explain things to ensure that you have no questions about the project.
We Succeed When You Succeed
We don't succeed until you succeed. Your company is not just another company putting money in our pockets. We consider ourselves a success when you achieve your business goals. Our goal is to grow and become more successful with you.
Superb Attention To Detail
We pride ourselves on our attention to detail. Many marketing agencies will just do the given task and don't pay attention to any issues that may arise. We work proactively so as to avoid any issues that may be damaging to your business.
We are never satisfied with our level of knowledge in the various areas of marketing. We are always eager to learn new strategies and come up with new services to offer you to continue to help your business reach its goals and become more successful.
Our team is made up of people with a team player mentality. We work great not only amongst ourselves, but also with other teams as well. If your business requires that we work with multiple people at your company, we are happy to do this and work with your team.
We can tell you all day how awesome we are, but the best way to judge a digital marketing agency is by what their clients have to say about their work. So check out some of the great testimonials our clients have given about what it's like to work with Epitome Digital Marketing!
Hire Our WordPress Websites Agency
There are over 200 ranking factors Google uses to rank your website. Make sure to hire a SEO Agency like Epitome Digital Marketing who are experts at SEO! Get in touch with us today!
Check out our work for yourself to see the high quality work that comes with hiring Epitome Digital Marketing for your digital marketing needs.
Frequently Asked Questions
If you have some questions, please check out these common questions below. You can also check our main Frequently Asked Questions page which has questions for all of our services here at Epitome Digital Marketing. Finally, if you can't find your questions there either, you can fill out the form on our Contact page to ask us anything else.
Yes, one of the most important marketing tools for a business today is a website. More homes have computers and internet connections than ever before. Smartphones are also a popular device that can be used to view websites.
We do not have a set price for this as every website is different. A small business or corporate website will have different requirements than an e-commerce website. Plus either type of website may also require different features from the next website.
While there are free options out there, these website builders have their limitations, both from a functional perspective as well as from a design perspective. By hiring Epitome Digital Marketing, you're taking advantage of nearly a decade of website development experience from our awesome team of developers.
Yes, website consultations are free. We will have you fill out a website questionnaire form so we can get to know you and your website needs as best as we can before quoting you a price. If you're ready for your free website consultation then fill out our Website Worksheet.
Yes, once your website is ready to launch, we'll need to log into where your domain name is hosted and point it towards the website we've built for you.
We build all types of websites. We build websites for personal usage, blogs, small businesses, corporations, and e-commerce websites.
E-Commerce websites are websites that you purchase products or services online such as Amazon.
We can build websites for almost any industry. We have previous experience in the following industries: health & wellness, higher education, construction, entertainment, manufacturing, religious, and more!
Once we have your website deposit and all information required, we can typically begin within 48 hours of receiving all that we need.
There is no concrete amount of time that it takes to build a website as most websites are different. An e-commerce website will take longer than a standard business website which will take longer than a personal website or blog. However, communication is one of our strengths at Epitome Digital Marketing, and you will always be informed of our progress.
Once your website is finished and your invoices are all paid up, the website belongs to the client.
Yes, we can generally pick up where they left off. It depends on what state your previous developer left it in.
The websites we build can be updated by our clients if they choose to do so.
Yes, the websites we build come with high quality training videos. For further training, we will assist you in learning how to update your website for our hourly rate of $75 per hour.
Yes, we encourage you to get a branded email for your website. You can get as many email accounts as you want.
Yes, by default, our websites are search engine friendly to ensure that your company ranks as high as they can on the search engine results. If you already have a website and need it optimized for search engines, check out the Search Engine Optimization services we offer.
No. Any company who promises you a top spot on the search engines is not being honest with you. There are a number of factors that go into your website's search engine ranking. For example, you're competing with similar companies who may already have a head start on their website's SEO and have already established their brand on the search engines. Our SEO services can help you with this.
Yes, along with being search engine friendly, our websites at Epitome Digital Marketing are designed to be responsive by default so that your website can be viewed on mobile devices.
If your company already has social media set up, we will link your website to them. If you do not have social media set up for your company, we offer Social Media Setup services.
Yes, our client websites all have Google Analytics set up so that visitors can be tracked, either for the benefit of the client or for our own business stats.
While your website isn't required to have a blog, it is very necessary for numerous reasons. A blog can be used to better connect with your customers and make you a bigger authority in your industry. It also has SEO benefits and will help your website rank higher on search engines.
If you have any other questions that were not found in the above answers, then please fill out our form on our Contact page.
Get Instant Access To Digital Marketing Mastery
Learn the secrets of quickly growing your business and bringing in more leads with our exclusive email list. Subscribers receive monthly emails about: