Why Does My Business Need A Website?
A business website will increase your visibility to your prospective audience and buyers. Here are the top reasons you should look into a website for your business.
In this day and age, a business's online presence can greatly impact its success. Your job doesn't end when you establish a startup. You have to announce to the world that you are here and you are the best one can find in the industry.
A good business website does this for you. It attracts customers and encourages them to buy your products and services, enabling you to build a customer base.
As of October 2020, there are 4.66 billion active internet users, and many of them would be willing to buy from you. If they only knew your business existed!
That's why you need a website with a responsive website design to increase your visibility to your prospective audiences and buyers.
Partner with our website design and development agency to understand your audiences and how our experts can build a website that pleases them enough to hit the buy button.
However, If you still have doubts about the utility of a well-designed website for your business, here are the top 7 reasons you should look into it:
Offer Easy Accessibility
Build Brand Credibility
Display Your Products And Services
Win At Online Marketing
Rule Google Searches
Gather Reviews And Testimonials
Disseminate Updates And Announcements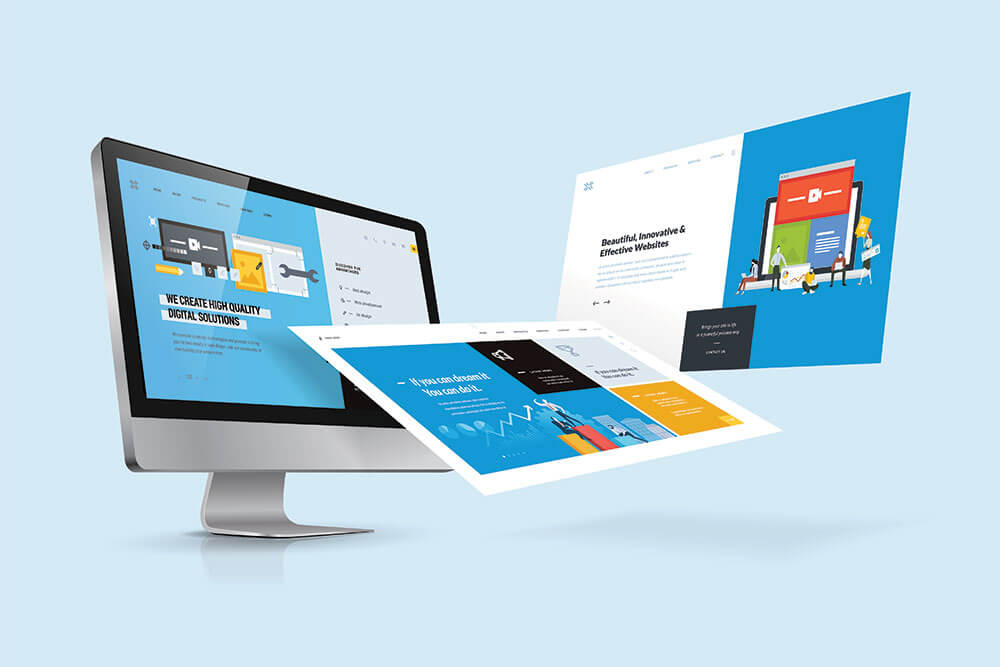 Offer Easy Accessibility
In this fast-paced world, where we struggle to manage time, it is a blessing if something is easily accessible. If your business has a website, it will be preferred for product or service purchases over those that don't have websites. Whenever we need anything, we open up google and search it to decide where to buy it.
A website provides all the necessary information about a business, including but not limited to who you are, what services or products you offer, and how they can contact you. 
A website also ensures your presence to the customer 24/7, making it convenient for them to reach out to you and buy whatever they want.
Build Brand Credibility
According to Stanford's web credibility research, 75% of users judge a website's trustworthiness by its design. A business website gives visitors a look into what makes you different from hundreds of others out there that offer the same products or services.
A website with a responsive web design will make you stand out and reassure consumers that your business is legitimate and reliable.
Display Your Products And Services
Presentation is the first step to attract consumers to your products and services. If people like what they see, they will request more information and then purchase it.
If you are a startup, then you have to showcase your expertise to establish your business. A website gives you the creative freedom to display the products and services in any way you think will best represent them.
HD quality pictures, informative videos, downloadable pamphlets are only some of the ways you can enhance the customer experience.
Once you reel customers in, keep them hooked, and be the ultimate stop for them on the internet to build a loyal customer base.
Of course, building an attractive website can be tricky, and this is where Epitome Digital Marketing comes in. We are a website development agency that will give you a responsive web design that customers can not miss.
Win At Online Marketing
Print ads and flyers were forms of marketing before their online version came around. If you compare the two, these old ways are costly and time-consuming but not effective.
Online marketing is a lot less expensive, efficient, and effective as it reaches out to more people.
But that's not it! Through online means, you can direct people to your website if you have one. An official website where people land from different channels like email marketing, blogs, social media pages, or ads will make it more effective.
Rule Google Searches
When people are in search of something, Google is their first stop. Hence, with a website, you can get into Google's search listings, and clients will be able to find you when looking for relevant services and products.
It may not sound very useful to you, but it is. Before the internet, clients used to run background checks on companies they were interested in working with. However, they don't waste their time over it now because Google search has made the job easy for them.
If you have an SEO optimized website, it will be displayed in the top searches of Google. Your business can easily be visible to people if they use specific keywords related to the website. The more your website shows up on google, the more popular it will be.
Gather Reviews And Testimonials
You can toot your own horn as much as you want, but customers need proof that you are what you claim to be at the end of the day.
A website can have testimonials and reviews to connect already satisfied customers with the new ones who are curious about your business.
You can feature any reviews by newspapers or blogs that you may have. These will help to give social proof to people and add to your credibility.
Disseminate Updates And Announcements
A website helps you stay connected with customers 24/7. You can post any updates or announcements whenever you want. Keeping your customers updated about any new offers or releases will keep them interested in your business.
Ready To Boost Your Online Presence With Epitome Digital Marketing?
Did you know that users take only 50 milliseconds to form an opinion about your website? Crazy, right? But that is why you need a responsive web design to make a lasting first impression.
With Epitome Digital Marketing's website development services, you can be sure to make those 50 milliseconds worth your customer's while.
Contact us to have a website designed for your business today!
Get Instant Access To Digital Marketing Mastery
Learn the secrets of quickly growing your business and bringing in more leads with our exclusive email list. Subscribers receive monthly emails about: